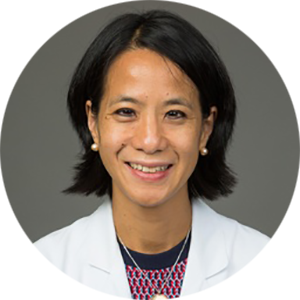 Ann M. Reed, MD, chair of the Department of Pediatrics and Kathleen A. Cooney, MD, MACP, chair of the Department of Medicine, recently announced the appointment of Jane Trinh, MD, as chief of the newly established Division of Medicine-Pediatrics in the Duke Department of Pediatrics, effective December 1, 2020.
The Departments of Pediatrics and Medicine have a strong commitment to the field of Medicine-Pediatrics and the vision of providing seamless, coordinated, high value, and high quality care across the lifespan. The Duke University Health System is home to nearly forty Medicine-Pediatrics physicians in a wide range of pediatric and adult care settings, including primary care, subspecialty care, and hospital medicine. To capitalize on the substantial strength of Medicine-Pediatrics at Duke, the Department of Pediatrics in conjunction with the Department of Medicine has established a new Division of Medicine-Pediatrics. As division chief, Trinh will have the opportunity and resources to create a truly innovative community that fully realizes the significant academic and clinical potential of Medicine-Pediatrics.
Dr. Trinh came to Duke in 1998 for medical school after completing her undergraduate studies at Rice University in Houston, TX. Following medical school, she chose to stay at Duke for a residency in combined internal medicine and pediatrics.
After completing her residency in 2006, she worked for one year as a clinic attending at the Duke Outpatient Clinic before serving as the Duke Regional Hospital (DRH) and ambulatory chief resident for the Internal Medicine Residency program. She then joined the faculty in the Departments of Medicine and Pediatrics and served as associate program director of the Medicine-Pediatrics Residency program. She began serving as program director in January 2018 where she has worked to promote Medicine-Pediatrics locally and nationally as well as effectively advance the education of our residents.
"Medicine-Pediatrics at Duke has the potential for tremendous growth and impact over the next several years, and we are excited to have Dr. Trinh join our leadership team, says Dr. Reed. "Her expertise in clinical care, research, education and advocacy will be instrumental in bridging academic medical training with further development of the outstanding group of Medicine-Pediatrics physicians in our Duke community."
Prior to the formation of the new division, Daniel Ostrovsky, MD has served as the interim section chief of internal medicine-pediatrics since 2018. He will remain on faculty as an associate professor of internal medicine and pediatrics and continue his work as a clinical educator within the newly formed division.