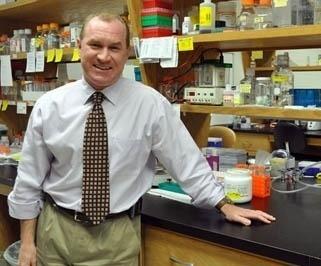 William J. Steinbach, MD, was recently named the new Vice Chair of Research in the Department of Pediatrics, effective March 1, 2021.
Steinbach came to Duke in 2001 for his fellowship in Pediatric Infectious Diseases and joined the faculty in 2004. He is currently the chief of the Division of Pediatric Infectious Diseases, and his clinical research includes founding and directing the International Pediatric Fungal Network (IPFN). His laboratory investigates the molecular pathogenesis, diagnosis, and treatment of invasive aspergillosis caused by Aspergillus fumigatus, a leading killer in patients with cancer or following transplantation.
Steinbach is the medical director of the Children's Clinical Research Unit (CCRU), and interim division chief of the Division of Transplant and Cellular Therapy. He is a member of the American Academy of Pediatrics Red Book committee, and recently completed a Board of Directors tenure for the Pediatric Infectious Diseases Society, where he currently chairs the Division Chief working group. He is a fellow of the American Association for the Advancement of Science (AAAS) and has been elected into the American Society for Clinical Investigation (ASCI) and the Association of American Physicians (AAP).
According to Ann M. Reed, MD, chair of the Department of Pediatrics and physician-in-chief of Duke Children's, "Dr. Steinbach is a recognized leader nationally and internationally and an exceptionally talented clinician-scientist--we are fortunate that he will be serving in this new role in the department."
Coleen Cunningham, MD, who has led the department's research mission for the last 5 years, has elected to step down as vice chair to assume the position of chair of the Department of Pediatrics at the University of California, Irvine School of Medicine (UCI) and senior vice president and pediatrician-in-chief for the Children's Hospital of Orange County (CHOC).