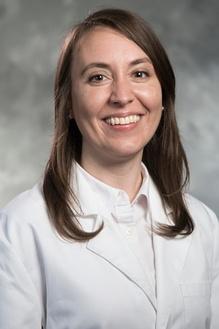 This week's Staff Spotlight shines on Lisa Rasbach, PhD, CPNP, a nurse practitioner in the Division of Pediatric Endocrinology. Lisa talks about  how the division has worked hard since COVID-19 to ramp up their telehealth approach. Additionally, she has worked with her team to assist families in downloading their diabetes devices remotely to allow for blood glucose review during telehealth visits. Lisa's mom and both of her grandmothers were nurses, which motivated her to become part of the profession. For her, these women embodied the true definition of a nurse: compassion, the value of listening and "nursing judgement", and the importance of patient advocacy. She also talks about what she most enjoys about her work, how the epidemic has affected her life outside of Duke, and offers some important advice for nursing students.
How long have you been at Duke? How did you decide to come here?
I have been at Duke for two years this month (May)! My husband's job relocated us from Baltimore, MD, and I was very grateful for the opportunity to join the pediatric endocrine division.
What were your pre-COVID-19 responsibilities within Duke Children's and have those responsibilities changed over the past month?
My pre-COVID-19 responsibilities focused mainly on providing clinical care to children, adolescents, and young adults living with pre-diabetes and diabetes. Since being at Duke, I have also had the opportunity to be part of a Clinical Innovations Grant to provide monthly support to our higher risk diabetes population and have worked with our team to obtain educational/coping supplies through a Kids Care Grant for our newly diagnosed diabetes families.
Since COVID-19, our division has worked hard, as so many others, to ramp up our telehealth approach. I am grateful for all of the IT support throughout this process! Thankfully, we have been able to maintain clinic continuity, and I have been able to still "see" many of my patients through either phone or video visits. Additionally, I have worked with our team to assist families in downloading their diabetes devices remotely to allow for blood glucose review during telehealth visits.
How did you first get interested in nursing? What made you decide to pursue nursing in pediatric endocrinology in particular?
My mom and both of my grandmothers were nurses, which motivated me to the profession. For me, these women embodied the true definition of a nurse: compassion, the value of listening and "nursing judgement", and the importance of patient advocacy.
I became interested in pediatric endocrinology, and diabetes in particular, because of the unique opportunity to work with a patient population that I truly admire. The diagnosis of diabetes is a 24/7 condition, requiring meticulous attention to detail. For over a decade, I feel it has been a privilege to work alongside these patients as a provider, educator, and cheerleader to help them thrive while living with diabetes.
How are patients living with pediatric diabetes being affected by the COVID-19 outbreak? How are you and your colleagues working to help this population?
Although there does not seems to be a higher incidence of COVID-19 in our pediatric diabetes patients, optimizing blood glucose control remains incredibly important during this time to keep the body healthy. Various aspects of the COVID-19 shut down, such as less structure, increased access to snacks, limited food choices, and/or decreased physical activity, can make good blood sugar control a challenge. We have worked to encourage our patients to establish a routine as much as possible, minimize snacking, find a daily source of physical activity, have a diabetes sick day management plan, ensure adequate supplies of medications, and promote self-compassion. This not only helps the blood sugars but also overall well-being!
What do you enjoy most about your work?
The patients! It is extremely gratifying to work with children and their families, often meeting patients at the vulnerable time of a new diagnosis and then see their confidence and knowledge grow as they learn how to manage a chronic condition. I also am incredibly grateful for the pediatric endocrine team. I feel very fortunate to work with a group of individuals whose ultimate goal is to provide the utmost in patient care while supporting each other's passions, whether in research or clinical care.  
You completed your Master of Science in Nursing and Doctor of Philosophy of Nursing at the Medical University of South Carolina—do you have any advice for nursing students?
Know that you have picked an incredible profession in nursing! The field of nursing is truly limitless. You have the opportunity to work with broad patient populations or choose a narrower field based on specific interests. There are opportunities for inpatient or outpatient care, education, leadership and research. Going back to school for my PhD taught me the importance of nurse scientists, the value of mentors, and the need for ongoing clinical research.
How has the epidemic affected your life outside of Duke? What's one positive strategy or resource you've found that helps you cope?
I feel the pandemic has truly provided a lesson in how to cultivate grace, patience, and resiliency under pressure. I have missed the day-to-day "live" interactions with my colleagues, friends, and extended family. Staying connected through other ways such as Zoom, texts, or calls have definitely helped! My husband and I also starting fostering a rescue dog just as the pandemic began. Although adoptions are currently on hold, Scout has found his forever home.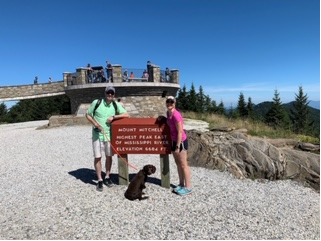 What passions or hobbies do you have outside of work?
Prior to the shutdown, we loved exploring North Carolina. This beautiful state has some much to offer! I also love going on hikes with my husband and now our two dogs. This picture is from a trip to Asheville last year when we hiked parts of Mt. Mitchell. Also, I am always on the lookout for delicious new vegetarian recipes to try!