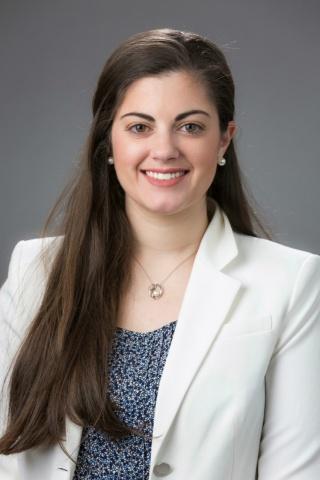 Angela McCall, PhD, postdoctoral fellow in the laboratory of Mai ElMallah, MBBCh, was nominated for the Staff Spotlight by her mentor and colleagues:
Dr. McCall is an outstanding scientist. Since beginning of her post-doctoral fellowship in my laboratory in 2017, she has co-authored five manuscripts and presented at several regional and national meetings. At the 2018 Pediatric Research Retreat at Duke, Angela was awarded the Outstanding Abstract, highlighting her excellent presentation skills. Angela has received the Duke Children's Derfner grant, the Pfizer-NC BioTech Distinguished Postdoctoral Fellowship in Gene Therapy grant, and a travel award for the Experimental Biology meeting in Orlando in 2019. Angela has a generous history of mentoring undergraduate and high school students, has been invited to give lectures to students and teachers in STEM fields, and was selected to be a participant in the 2019 Duke University Emerging Leaders Program. These qualities attest to her character and commitment both at the bench and to the Duke community at large. 
--Mai ElMallah, MBBCh, Associate Professor of Pediatrics in the Division of Pulmonary and Sleep Medicine
Mai ElMallah's postdoctoral fellow, Angela McCall, received a Derfner grant from Pediatrics last year and recently received another grant this academic year. She helps Dr. ElMallah manage a lab of several undergraduate and master's students and two research technicians. The group presented six posters at the 2019 Pediatrics Departmental Research Retreat--evidence of their research productivity.
--Bernard Fischer, DVM, PhD, Associate Professor of Pediatrics in the Division of Allergy and Immunology
In her own words
What made you decide to come to Duke?
My PhD research focused on gene therapy for Pompe disease. When selecting a mentor and institution for my postdoctoral work, I wanted to expand on my experiences with adeno-associated viruses (AAV) and neuromuscular disorders. Through the clinical and pre-clinical research of many faculty and staff in the Duke Department of Pediatrics, treatments for Pompe disease have made an impact for patients. I chose to come to Duke to be a part of this team and make further progress for patients with neuromuscular disorders.
How long have you been working at Duke and in the Department of Pediatrics?
Two and a half years.
What are your responsibilities within the department?
As a postdoctoral fellow in Dr. ElMallah's lab, I am responsible for overseeing the research projects we work on, as well as conducting my own research on developing novel gene therapies for Pompe disease. I also coordinate with other laboratories on campus to evaluate respiratory deficiency in mouse models, through our whole-body plethysmography system.
What do you enjoy most about your work?
One of the aspects about this position that I enjoy the most is the collaborative nature of our work.  Within our lab, at least four to five members contribute to each project, so there is a lot of potential to work with others.  I also have many opportunities to collaborate with other laboratories within the department, as well as across campus. Working with others who have a common interest in making progress on new therapies is very rewarding.
What passions or hobbies do you have outside of the department?
Outside of research, I enjoy exploring the North Carolina food scene with my fiancé. Even though I have been here for two years, there are still so many new places to see and try! I also volunteer for the Hugh O'Brian Youth Leadership programs in South Florida and Eastern North Carolina.