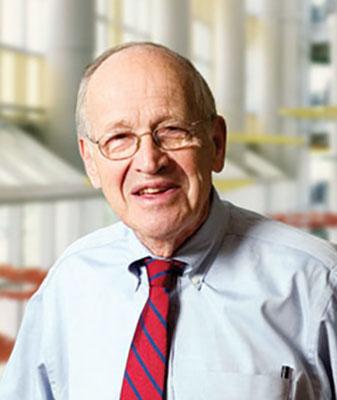 Samuel L. Katz, MD, died on Monday, October 31, 2022.
Dr. Katz was a world-renowned virologist, pediatrician, and chair emeritus and Wilburt C. Davison Professor Emeritus of Pediatrics at Duke University School of Medicine. He was an honors graduate of Dartmouth College and Harvard Medical School. After a medical internship at Beth Israel Hospital he completed pediatrics residency training at the Massachusetts General Hospital and the Boston Children's Hospital, followed by a research fellowship in virology and infectious diseases.
Dr. Katz then became a staff member at Children's Hospital working with Nobel Laureate John F. Enders for the next 12 years researching viruses — specifically measles, a disease that at the time killed more than five to six million children each year globally. During this time, Drs. Katz and Enders developed an attenuated measles virus vaccine.
In 1960, David Morley, MD, a British physician working in Nigeria, where the effects of measles were far more severe than they were in the United States, contacted Dr. Katz. Together, they inoculated Nigerian children with the new vaccine, with successful results. Not long after, the vaccine was tested in national clinical trials, approved by the Food and Drug Administration in 1963, and is now used throughout the world.
In addition to development of the measles vaccine, Dr. Katz worked extensively on a range of other vaccines, including vaccinia (used as smallpox vaccine), polio, rubella, influenza, pertussis (whooping cough), Haemophilus influenzae b conjugates, and HIV.
In 1968, Dr. Katz was appointed chair of the Duke Department of Pediatrics, where he served for 22 years. In addition to mentoring two decades of students and residents, he established an exchange program with Oxford University and provided training for an annual succession of residents from the American University of Beirut. Throughout his tenure he displayed genuine interest in his patients, faculty, and trainees, actively encouraging female and minority physicians and seeking to diversify the faculty.
"As he did for so many others, Dr. Katz had a profound influence on my career," said School of Medicine Dean Mary E. Klotman, MD. "His commitment, passion, and warmth were infectious. Duke School of Medicine, Pediatrics, and the world are all better because of him."
"Dr. Katz has been a stellar role model for all of us, as a clinician, as a teacher, as an investigator, and as an advocate for children," said Department of Pediatrics Chair Ann M. Reed, MD. "He set a high bar, advancing medicine in ways that have improved children's health around the world--he is truly one of the outstanding pediatric investigators of our times."
In addition to seeing patients and supporting faculty, Dr. Katz expanded his role as an advocate for vaccination. Experiencing firsthand the ways in which disease affects children living in resource-poor countries contributed to Dr. Katz's lifelong advocacy, within the United States and around the world. He chaired the Committee on Infectious Diseases of the American Academy of Pediatrics (AAP), the Advisory Committee on Immunization Practices (ACIP) of the Centers for Disease Control (CDC), the Vaccine Priorities Study of the Institute of Medicine (IOM), and several World Health Organization (WHO) vaccine and HIV panels. He served on the National Institutes of Health (NIH) Committee for AIDS Vaccines, and co-chaired the India-U.S. Vaccine Action Program and the National Network for Immunization Information. In addition, he served as chair of the Public Policy Council of the Infectious Diseases Society of America (IDSA), co-chaired IDSA's Vaccine Initiative and worked on behalf of UNICEF and the American Red Cross.
Dr. Katz earned numerous accolades throughout his career, including the inaugural Joseph St. Geme, Jr. Leadership Award in 1988, the 2003 Albert B. Sabin Gold Medal awarded by the Sabin Vaccine Institute, and the 2015 Maxwell Finland Award for Scientific Achievement for his contributions to vaccine discoveries during his career.
Please join us in extending our sincerest condolences to Dr. Katz's family, friends, and colleagues.