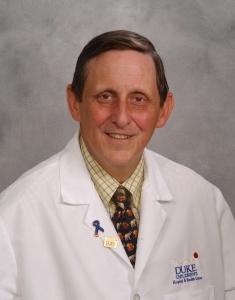 Thomas Kinney, MD, passed away on May 25, 2020.
Listing all he has done would be impossible; the legacy and impact he leaves at Duke as a champion in the field of children's healthcare is exceptional.
Dr. Kinney was the Wilburt C. Davison Distinguished Professor of Pediatrics in the School of Medicine and associate chair emeritus in the Department of Pediatrics. In the 50 years since he earned his medical degree at Duke, he has made outstanding academic contributions in the area of clinical research in pediatric hematology. 
Among his many scholarly contributions, Dr. Kinney led a national study that defined the natural history of sickle cell disease and played a critical role in the implementation of the statewide newborn screening program for sickle cell disease in North Carolina and other southern states. He was co-chair of the Agency for Health Care Policy and Research Panel that developed the national guidelines for newborn sickle cell screening. He also played a leadership role in defining the use of hydroxyurea to treat children with sickle cell disease. As a member of the faculty, he has served as the pediatric residency program director, co-director of the medicine-pediatric residency program, and an associate dean in the School of Medicine. He also was the lead physician on the design and construction of the McGovern-Davison Children's Health Center. More recently, he directed the Children's Clinical Research Unit that oversees all clinical trials in the Department of Pediatrics. 
Notably, Dr. Kinney received the Excellence in Professionalism Award in 2015 and the Duke Medical Alumni Distinguished Faculty Award in 2013.
Memorial service information will be provided when it becomes available.
---
Related content
Duke Flags Lowered: Dr. Thomas Kinney, Davison Distinguished Professor of Pediatrics, Dies
[05.26.2020] Duke Today
Remembering Dr. Thomas Kinney
[05.27.2020] Duke University Medical Center Library & Archives
Dr. Thomas R. Kinney, 1944-2020
[05.29.2020] The American Board of Pediatrics