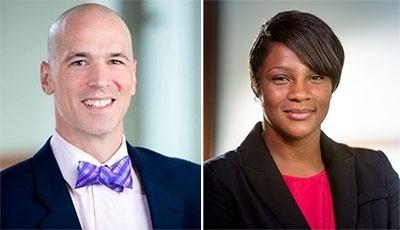 Today, North Carolina's Governor Roy Cooper signed into law The Reopen Our Schools Act of 2021, which requires all public schools in the state to provide their students with in-person learning for grades K-5.
The compromise legislation was informed by the data and thought leadership of the Duke Clinical Research Institute's ABC Science Collaborative. The Collaborative was established last year to pair North Carolina scientists and physicians with school and community leaders to help them understand the most current and relevant information about COVID-19.
Building on the collaborative's contribution over the past year, the new legislation includes funding for the ABC program to continue its work with the NC Department of Public Instruction and Department of Health and Human Services to:
Provide for data collation, analysis, and interpretation of COVID-19 related metrics of student and teacher safety for all local school administrative units that are willing to provide, or need to provide, data.
Review and analyze the schools data to determine COVID-19 exposure and transmission based on contact tracing (and confirmatory testing with certain sites) and to evaluate the fidelity and adherence to mitigation strategies that enable in-person instruction, as provided in the Strong Schools NC Public Health Toolkit (K-12).
"We are pleased and proud to have helped our legislative leaders in North Carolina lead with science as they make decisions to reopen schools knowing that students can return to classrooms safely when mitigation practices are followed fastidiously—hand washing, distancing, and masking," said DCRI's Danny Benjamin, MD, PhD, MPH, co-chair for the ABC Science Collaborative along with DCRI's Kanecia Zimmerman, MD, MPH.
North Carolina models the way for national discussion and decisions on school re-openings during COVID-19 pandemic
Leaders from the NC General Assembly joined Governor Cooper in a press conference held March 10 to introduce the legislation.
"The ABC [Science] Collaborative has done nationally recognized work, and they've been at the leading edge of analyzing data within schools to report on the safety of in-person instruction," said Senate leader Rep. Phil Berger (R). "The partnership this bill creates between local districts and the ABC Science Collaborative will be beneficial for those districts but will also likely produce rich analysis that can inform policies across the country. North Carolina can be a national leader in reopening schools and producing world-class analysis to enable other states to follow suit."
Rep. Dan Blue (D), added that North Carolina could also be a leader in bipartisan collaboration. "The state of North Carolina can blaze a trail and demonstrate how we can get things done for the benefit of the citizens of our state," he said. "Everyone here has been working toward the same goal: to get students back to school safely."
Over the past year, the ABC program has helped school leaders to interpret COVID-19 data and to make informed decisions about returning to school using data from their own communities. The program's research is part of a growing repository of research findings that is helping to inform our nation's response to the COVID-19 pandemic. ABC national partners in California, Mississippi, Missouri, Utah, and Wisconsin have contributed key research to further inform North Carolina policy. The ABC program also developed a response to the Centers for Disease Control and Prevention as part of its work to help local schools better understand how to apply the CDC guidance on their campuses.
"As researchers, infectious disease experts, internists, and pediatricians, we are on the front-line of the COVID-19 response, caring for children and adults with COVID-19 and its potential lasting effects," Zimmerman said. "We have seen first-hand in our clinics the growing harm to children who are out of school and the need for students to return to the classroom."
The ABC Science Collaborative is funded through the National Institutes of Health. The program is coordinated by the Duke University School of Medicine and the Duke Clinical Research Institute and is a partnership that extends across 14 states. The goal of the program is to keep teachers, children, and their local communities healthy and safe. The program offers 12 Principles for Safer Schools as a guide for developing plans for managing student learning, as well as 10 Ideas for Investing Resources to Help Mitigate the Spread of COVID-19 in School Environments.
---
This article was originally published on DCRI News.
Related content
The ABC Science Collaborative Statement on North Carolina School Reopening Legislation
ABC Collaborative [03.10.2021]
Governor Cooper and Legislative Leaders Reach Agreement for Students to Return for In-Person Instruction
Duke State Relations [03.10.2021]