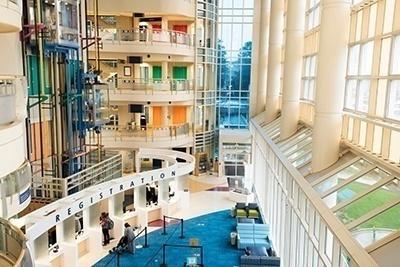 DURHAM, N.C. -- U.S. News & World Report has ranked Duke Children's Hospital among the top 50 children's medical centers nationally and the only hospital in North Carolina with nine of 10 specialties ranked in the magazine's analysis.
"We are proud and honored to be ranked by U.S. News & World Report in nine programmatic areas," said Ann Reed, M.D., chair of the Duke Department of Pediatrics and physician-in-chief of Duke Children's. "Our commitment to our patients and their families drives us to deliver the highest-quality of care."
According to U.S. News, the ranking methodology reflects clinical outcomes, such as patient survival, infection rates and complications; the level and quality of hospital resources directly related to patient care, such as staffing, technology and special services; delivery of healthcare, such as programs that prevent infections and adherence to best practices; and expert opinion among pediatric specialists.
The magazine reports that 88 of the 193 surveyed hospitals were ranked among the top 50 in at least one specialty in the 2020-21 analysis.
In addition to being the only children's hospital in the state ranked in nine areas, Duke has the highest ranking in the state in six categories, designated below by an asterisk:
Cancer (30)*
Cardiology and heart surgery (31)*
Diabetes and endocrinology (36)
Gastroenterology and GI surgery (28)
Neonatology (21)*
Nephrology (22)*
Neurology and neurosurgery (33)*
Pulmonology and lung surgery (32)
Urology (28)*
---
About Best Children's Hospitals
The Best Children's Hospitals rankings highlight U.S. News's top 50 U.S. pediatric facilities in 10 specialties. The 2020-21 rankings were created from clinical data collected through a detailed survey sent to nearly 200 facilities across the country.
Part of each hospital's score is derived from surveys of more than 15,000 board-certified pediatric specialists and subspecialists who were asked where they would send the sickest children in their specialty.
U.S. News introduced the Best Children's Hospitals rankings in 2007 to help families of sick children find the best medical care available. Best Children's Hospitals 2020-21 goes beyond rankings, offering families an exclusive look at quality-related information at the individual hospital level. Survival rates, adequacy of nurse staffing, procedure volume, and much more can be viewed on the U.S. News & World Report website.