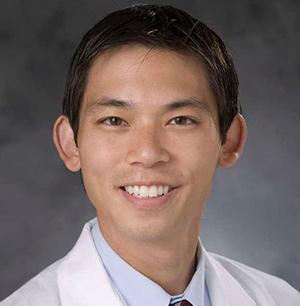 David Ming, MD, has been named Chief of the Division of Pediatric Hospital Medicine (PHM) within the Department of Pediatrics, effective October 1, 2023. Dr. Ming brings with him an impressive array of qualifications, experiences, and a deep commitment to advancing the field of pediatric medicine.

Recently, Dr. Ming was an Associate Professor of Pediatrics, Medicine, and Population Health Sciences and serves as a Pediatric Hospitalist. Dr. Ming's journey as a combined medicine and pediatric academic hospitalist spans over a decade, during which he has excelled in patient care, research, teaching, leadership, community engagement, and innovation at Duke. His mission as a clinician-scientist is driven by a dedication to improving health outcomes for populations with complex health needs and enhancing the experiences of clinicians and trainees through interdisciplinary collaboration.
 
Dr. Ming's extensive experiences have uniquely prepared him to lead the PHM division in the modern academic medical environment. He is fully committed to Duke's institutional mission, vision, and values and deeply believes in the potential of Duke PHM to make transformative impacts on children's health.

Dr. Ming's vision for the division is to build upon its existing strengths, forge new partnerships beyond the department and hospital, and strategically invest in the faculty to propel Duke PHM to national recognition as an exceptional academic home for hospitalists dedicated to enhancing the health of children, adolescents, young adults, and their families.

"Dr. Ming's impressive strengths and experience make him an ideal leader for the Division of Pediatric Hospital Medicine, and we are fortunate that he will be serving in this new role. Please join us in welcoming Dr. Ming to our team," said Ann M. Reed, MD, chief of the Department of Pediatrics and physician-in-chief of Duke Children's. "We are excited about the innovative leadership and positive impact he will bring to our Division of Pediatric Hospital Medicine."