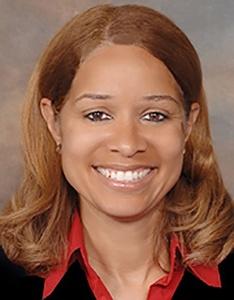 Mia Mallory, MD, MEd, was recently named program director of the Duke Pediatrics Residency Program and associate professor of pediatrics in the Division of Emergency Medicine, effective June 14, 2021. 
After completing a medical doctorate at The University of Pittsburgh School of Medicine, Dr. Mallory completed residency training in pediatrics at Children's Medical Center of Dallas, at the University of Texas Southwestern, where she was also chief resident. She completed fellowship training in pediatric emergency medicine at Cincinnati Children's Hospital Medical Center and then completed a master's of education in curriculum and instruction at the Cincinnati College of Education. She joined the faculty at the University of Cincinnati College of Medicine in 2001.
In her current role as associate dean of the Office of Diversity, Equity and Inclusion, Dr. Mallory has focused her efforts on the development and implementation of strategies to foster a culture of inclusion in which highly qualified students, faculty and trainees from diverse talent pools are increasingly represented within the University of Cincinnati College of Medicine, which now has the most diverse student classes in its history. Specifically, she has led the development and management of programs and initiatives, such as implementing implicit bias training of incoming residents and fellows to the University of Cincinnati, increasing diverse representation on the medical school admissions committee as well as within the interview pool, and enhancing diversity in first look and second look medical school and residency interview programs focused on underrepresented in medicine (URiM) recruitment. In addition, Dr. Mallory was instrumental in founding the Minority Housestaff Association (MHA), which is aimed at connecting residents spanning all programs and developing recruitment and professional development activities. She continues to lead this group as faculty advisor.
Dr. Mallory also served as associate program director of the Pediatrics Residency Program at Cincinnati Children's for eight years where she made numerous contributions and continues to maintain personal and mentoring relationships with current residents and graduates of the program. Notably, she was recently recognized as the 2021 faculty recipient of the Leonard Tow Humanism in Medicine award, which will be presented at the University of Cincinnati College of Medicine's Honors Day celebration on May 23, 2021.
"Dr. Mallory's knowledge and experience will be invaluable as we seek to grow and enhance our pediatrics residency program, and we are fortunate to have such a talented educator and clinician join our leadership team," said Ann M. Reed, MD, chair of the Department of Pediatrics and physician-in-chief of Duke Children's.