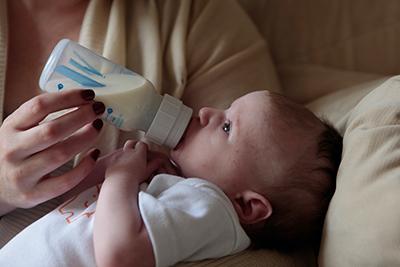 The national baby formula shortage has put infant nutrition front and center in the minds of patients and their families. A crucial aspect of women's health is supporting mothers with resources to nourish their babies. Duke Department of Pediatrics providers are committed to ensuring that families have resources available to them, and that tools for continued support and information sharing are utilized effectively. 
As Elizabeth Erickson, MD, medical director of Family Connects Durham, emphasizes, "Providing holistic support for families during this time is essential, when something as 'simple' as feeding your new baby can feel like an overwhelming struggle. For those who choose to breastfeed, this choice is far from an easy path, and many are unable to meet their stated goals due to a lack of support for this full-time job."
This spring, Duke providers and educators from Duke Family Medicine and Community Health, Duke Ob/Gyn, Duke Primary Care and Duke Pediatrics formed a lactation resources group to focus on ways to disseminate helpful patient-focused information, and specifically, a variety of Duke-approved lactation education materials. Led by pediatrician Gabriela Maradiaga Panayotti, MD, the goal of the group is to share experiences and resources to support breastfeeding families, patients and Duke Health employees. Breastfeeding support resources and educational materials are now available to providers to share with patients via dotphrases in both English and Spanish. They were developed by experts in lactation at Duke and are approved by the DUHS Patient and Family Education Governance Council. The resources are aimed at assisting the medical team caring for patients after birth in order to ensure that they have an understanding of issues like the formula shortage that are impacting patients and families. Patients often have questions about lactation, and having evidence-based resources to share is beneficial.
The dotphrases created by this group are valuable educational resources, which are now readily accessible to patients and their families. Additionally, Duke providers and staff can join listservBreastfeeding_support. Please contact Dr. Maradiaga if  interested in joining the resource group. Additionally, please reference this recent op-ed authored by Duke Pediatrics, published in The Charlotte Observer, about the impact of the formula shortage.
Dotphrases 
.lactbasics
.lactengorgement
.lactflatinvertednipples
.lactinsufficientmilksupply
.lactmastitis
.lactoveractiveletdown
.lactpluggedmilkducts
.lactreturntowork
.lactsleepybaby
.lactslowweightgain
.lactsorenipples
.lactstoragemilk
.lactthrush