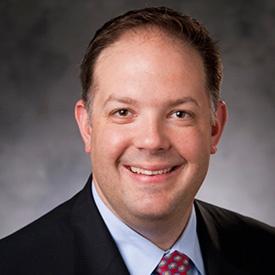 A. Eugene Washington, MD, Chancellor for Health Affairs, Duke University and President and CEO, Duke University Health System, recently announced the appointment of Jeffrey Ferranti, MD, MS, professor of pediatrics, family medicine and community health, and biostatistics and bioinformatics, as the Chief Digital Officer & Senior Vice President, Duke University Health System. Ferranti has served as the Chief Information Officer (CIO), Vice President for Medical Informatics, and leader of Duke Health Technology Solutions (DHTS) for the past nine years. In his role as CIO, he has led the enterprise deployment of Epic and provided strategic oversight of the technology solutions enabling world class clinical care, research and education across Duke Health.
Under Ferranti's leadership, DHTS has built the infrastructure necessary to digitally partner with patients, advance new and emerging care models, and support the dynamic needs of a rapidly growing academic health system. These accomplishments were recognized nationally when Duke received the Nicolas E. Davies Award for IT excellence in 2018 and was named a "Most Wired" institution by the College of Healthcare Information Management Executives (CHIME) 2018-2021.
Serving as Chief Digital Officer (CDO) & SVP, Ferranti will continue to provide leadership across the Duke Health enterprise in creating organizational value by leveraging digital tools and advanced analytics to transform and modernize care delivery. The CDO role will also focus on developing industry digital health partnerships and advancing digital innovation through health IT investments. In partnership with the Schools of Medicine and Nursing and other University units, the CDO will work to advance care quality, equity and discovery through the novel use of data science and emerging technologies. This work provides an incredible opportunity to develop and recruit digital innovation talent to round out our existing capabilities and to accelerate the commercialization of internally developed digital assets.
According to Dr. Washington, "I am excited to have Jeff take the helm in this important space that will elevate our impact, strengthen our market relevance and create opportunities for growth and development."