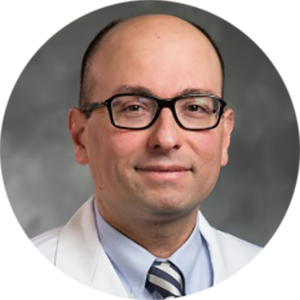 For Talal Mousallem, MD, the call to medicine came at an early age. Interestingly, he grew up Lebanon during the Lebanese civil war, and his great grandfather, grandfather and uncle were all physicians, who graduated from the same medical school. In this week's Faculty Spotlight, Mousallem talks about his work caring for pediatric and adult patients with allergic and immunologic diseases. He also talks about his research interests in the genetics of primary immunodeficiency and in the discovery of inborn errors of immunity and provides some valuable advice for trainees.
How long have you been at Duke? How did you decide to come here? 
I came to Duke in 2004 as a research associate in the Department of Pediatrics. I completed my pediatric residency training (2010) and allergy and immunology fellowship (2013) at Duke. Following that, I accepted a faculty position at Wake Forest School of Medicine (Bowman Gray Medical Center).
I have always had a sense of appreciation to Duke and had fond memories and great friendships. The creativity and talent here always impressed me. Furthermore, I met my wife (vascular neurologist) and got married during my training at Duke. All of these factors contributed to us deciding to move back to Duke in 2019!
What are your current responsibilities in the Department of Pediatrics? What does your typical day look like? 
I see pediatric and adult patients with allergic and immunologic diseases. My area of expertise is in primary immunodeficiency diseases (specifically severe combined immunodeficiency-SCID) also known as inborn errors of immunity. I am a member of the physician advisory committee/ physician follow up panel for newborn screening for SCID in North Carolina. I get referrals to evaluate babies with abnormal newborn screen results for SCID from our state. I spend 3 days in clinic each week and divide my time between the CHC and the Duke Asthma, Allergy and Airway Center, where I serve as the pediatric associate medical director. I also cover the inpatient service and work closely with residents and fellows. I currently serve as the associate program director of our ACGME-accredited Allergy and Immunology Fellowship Training Program and I am fortunate to work closely with our amazing fellows!
How and when did you initially become interested in medicine? What made you decide to pursue a career in pediatric allergy and immunology in particular? 
I became interested in medicine at an early age. I grew up in Lebanon during the Lebanese civil war and always felt that I had a calling to try to make a difference in people's lives. Furthermore, my great grandfather, my grandfather, and my uncle were/are all physicians and we all graduated from the same medical school (American University of Beirut). I became interested in the field of allergy and immunology during my residency training. I was always fascinated by inherited human immunodeficiencies, which can be considered experiments of nature, where gene defects compromise specific immune functions and thereby contribute to the understanding of how the human immune system works. 
What do you see as the biggest current challenges and opportunities in the field of pediatric allergy and immunology?
I believe one of the biggest challenges and opportunities in the field of Allergy and Immunology is identifying and diagnosing primary immunodeficiency diseases early on and offering appropriate therapies before patients become sick with infections. Fortunately, newborn screening for SCID has been available in North Carolina for four years now, and I have identified and successfully treated 3 SCID patients because of this.
Can you tell us about the research you are currently involved in? 
My research interests are in the genetics of primary immunodeficiency and in the discovery of inborn errors of immunity. Today, there are more than 450 genetic defects that affect the immune system and function. In many cases, the molecular defect remains unknown in patients with primary immunodeficiency. Using next generation sequencing technology, we have identified and characterized 2 novel causes of primary immunodeficiency diseases (IKBKB and PIK3R1). We also published one of the earliest reports illustrating the clinical application of whole genome sequencing in primary immunodeficiency. We are currently investigating other variants of interest identified from this technology. I am part of the NIAID funded Primary Immunodeficiency Treatment Consortium (PIDTC), a multicenter consortium of more than 44 academic centers. I am also involved in industry sponsored research/ clinical trials including one examining  ADA deficient patients' immune reconstitution as a result of enzyme replacement therapy and in two trials for gene therapy for X-linked SCID. I am fortunate that Dr. Rebecca Buckley has been and continues to be an outstanding research mentor.
What do you enjoy most about your work?
My patients and their families! We see very unique patients and we learn a lot from our patients. Making a difference in people's lives through life saving therapies! I am incredibly grateful for the talented people I work with and the collaborative spirit at Duke.
You completed your residency and fellowship here at Duke. Do you have any advice for trainees?
My advice is "keep an open mind." When I started my residency training, my plan was to become a child neurologist or a geneticist. However, I really enjoyed taking care of patients with allergies and immunodeficiency diseases. I chose a specialty that I enjoyed, and I would tell trainees to pursue what they are passionate about!
What passions or hobbies do you have outside of Duke?
I love spending time with my wife and 2 children (4 year old and 9 year old boys). I enjoy watching college basketball games with my son (live and TV). I love going to the beaches and mountains in North Carolina. We are very fortunate to live in this area as beaches and mountains are within reasonable driving distances. Finally, I enjoy playing tennis and cooking… My specialty is Mediterranean cuisine!