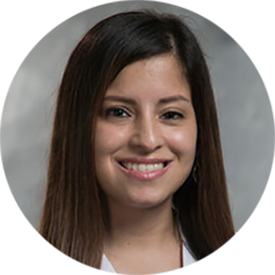 This week's faculty spotlight shines on Joanna Robles, MD, assistant professor of pediatrics in the Division of Hematology-Oncology. Robles talks to us about how she became interested in pursuing pediatric hematology-oncology as well as her perceptions of the biggest challenges and opportunities in the field. She also shares her reflections on her most significant mentor, Jennifer Mayer, MD, and offers some insights into her research focused on how English proficiency affects clinical outcomes and patient satisfaction. She also talks about some of her passions outside of Duke.
How long have you been at Duke? How did you decide to come here?
I came to Duke in 2017 for my fellowship in Pediatric Hematology-Oncology. Prior to this, I had completed my undergraduate college, medical school and pediatrics residency at the University of South Florida in Tampa, FL. There was no pediatric hematology-oncology fellowship at my previous institution, so it was time to venture out. I came to Duke for fellowship because it offered broad clinical training, a wide variety of research opportunities, and served a diverse patient population. I decided to stay at Duke after fellowship because it offered me the opportunity to continue to care for my patients, continue my clinical research in health disparities, and because I knew that I would have a supportive environment that would help me succeed as I started my academic career.
What are your current responsibilities within the Department of Pediatrics? What does your typical day look like?
I am one of the faculty members in the Division of Pediatric Hematology-Oncology. I see patients with cancer and blood disorders in our outpatient clinic, inpatient service, and hematology consult service. I also spend some time doing clinical research on health disparities within pediatric hematology-oncology.
How and when did you initially become interested in medicine? What made you decide to pursue a career in pediatric hematology-oncology in particular?
I have been interested in medicine, specifically pediatric hematology-oncology for as long as I can remember. I pursued the field of pediatric hematology-oncology because I was drawn to the idea of developing lifelong relationships with families as they start the difficult journey of facing a diagnosis of cancer or a blood disorder such as sickle cell disease. 
What do you see as the biggest current challenges and opportunities in the field of pediatric hematology-oncology?
One of the biggest challenges that pediatric hematologists-oncologists face is the psychosocial effects of a cancer diagnosis or lifelong blood disorder on our patients and families. Many of my patients and families have faced depression, anxiety, chronic pain, and many other obstacles that further complicate their already difficult diagnoses. I believe this has been increasingly recognized in our field and has become an opportunity to improve the care for our patients not only from a medical standpoint but as whole patients. We work hard to include a multidisciplinary approach to our patients and include social workers, psychiatry, psychology, and our quality of life team in the care of our patients to ensure that we are thinking about their mental wellbeing in addition to treating their underlying diagnosis. 
Is there any research or other special projects you are doing or plan on doing?
My research involves learning how limited English proficiency affects clinical outcomes and patient satisfaction in pediatric hematology-oncology. I have observed and personally experienced that navigating the medical system is not the easiest task and adding a language barrier to this further complicates this situation. My goal is to determine if there are specific areas that can be targeted to improve the care for these patients.
What do you enjoy most about your work?
I enjoy developing relationships with my patients and families and earning their trust. It is an honor that families trust me with their child's care and show appreciation for the effort I put into ensuring I am being the best doctor I can be. As a bilingual physician, I also enjoy when I can offer care to patients that speak primarily Spanish. I have had so many of these parents thank me multiple times and express their appreciation as they tell me that it is not often that they are able to find a doctor they can speak to directly. 
Who was your most significant mentor and what knowledge did you gain through this collaboration?
I have had multiple clinical and research mentors throughout my career who have shaped me into the physician I am today. One of my most significant clinical mentors was Dr. Jennifer Mayer at All Children's Hospital. I completed an elective in pediatric hematology-oncology with her my fourth year of medical school. I was so impressed by how passionate she was about the field. She put all of her passion and efforts into her work, and it was so obvious that she loved her work. She was also honest about the sacrifice that the path to this field would require. I will never forget going with her to attend a "day 1 talk." The parents were already tearful as they had already been giving a diagnosis of cancer by the surgeon. Of course, they had their undivided attention on Dr. Mayer as she prepared to give them further details. The mother had her pen and paper out, and Dr. Mayer assured them that they did not have to take detailed notes but she only wanted them to write out one thing and proceeded to spell this word: C-U-R-E. It was a moment of intense emotions but this moment and this rotation with her solidified my decision to pursue this career path. She was right that it would not be easy but there is no other field I could see myself working in.
Do you have any advice for trainees?
My advice for trainees is to pursue what you are passionate about. Medicine is a difficult field that requires so much of you physically and emotionally, but if you love what you are doing, then it is completely worthwhile.
What passions or hobbies do you have outside of Duke?
I enjoy the arts and outdoors. During my free time outside of Duke, I can be found painting, drawing, decorating, practicing guitar, singing or hiking the outdoors with my husband. I also enjoy spending time with my feisty little chihuahua/yorkie rescue who is often making appearances during my zoom meetings from home.