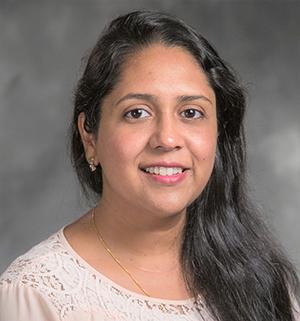 Aditi Korlimarla, MBBS, is a medical instructor in the Division of Medical Genetics, who oversees a multidisciplinary industry-sponsored study that focuses on the natural history and disease progression of children with Pompe disease. She talks to us about her love of teaching and mentoring young MD-post docs and shares the knowledge that she gained from her most significant mentor—her dad. Her passions outside of work include spending time with her family as well as painting and experimenting with different art forms and textures.
How long have you been at Duke?
It would be 5 years on Sept 5th!
How did you decide to come here? 
After medical school and a residency in a preventative cardiology from India, I thought that a post-doctoral program with a focus on clinical research training would help diversify my portfolio. And so, while volunteering at the Duke Cancer Center (which I did for about 1.5 years), I looked for jobs or advanced programs within the Duke University portal. It was then that I came across a post-doctoral clinical research program in the Pediatrics medical genetics division, and decided to apply.
What are your current responsibilities in the Department of Pediatrics? What does your typical day look like?
I oversee a multidisciplinary industry-sponsored study that focuses on the natural history and disease progression of children with a rare disorder known as Pompe disease. I have played a key role in all the phases of this research project, from grant writing to research work and publications. Apart from enjoying the scientific advances in this research study, I love teaching and mentoring young MD-post docs. As an advocate for women in science, I provide mentorship and career guidance to these students.
How and when did you initially become interested in medicine? What made you decide to pursue a career in medical genetics?
It was a very organic decision growing up. I was always an empathetic person. While playing in the playground or riding a bike in the community, I would be the one who nursed injured children till their parents would arrive at the scene. Also, I grew up watching Doogie Howser :- ), and was always inspired to be in the field of medicine.
Can you tell us about the research you are currently involved in?
Our team at Duke follows the largest cohort of children with Pompe disease in the US, and we have a large multidisciplinary team of expert collaborators working together to care for these children. We recognized that there is a lot to learn about the clinical issues involving the nervous system, speech, language, and developmental outcomes in children with Pompe disease. Through collaborations at Duke, we have successfully pioneered the clinical research realms to better characterize the neurological involvement in these children. We also collaborate with our colleagues on the bench side to enable translational research. I have first authored 4-5 research articles to highlight our research work at Duke, and to showcase the extent of disease burden, pathophysiology, and the quality of life in individuals with Pompe disease.
Who was your most significant mentor and what knowledge did you gain through that collaboration?
My most significant mentor would have to be my dad. He is super smart, caring, helpful, and very hard working. Of all his traits that influenced my career choices, I rank his thirst for knowledge to be the most influential one. He was a physics major who went on to become an executive board director of a large company. In between that journey, he acquired the CPA and JD degrees. He always says that perseverance and hard-work would bring success when one has a drive to achieve their professional goals.
What do you enjoy most about your work?
I am a big picture person, and so, it brings me immense joy when I see meaningful and impactful outcomes from my research work. I also enjoy the collaborative spirit of so many talented individuals at Duke.
Do you have any advice for trainees?
We all have dreams, and it is often hard to achieve a few of them. So, if you have roadblocks during the journey, then it may be time to reassess the pathways to achieve some dreams. Keep an open mind.
What passions or hobbies do you have outside of Duke?
I love to spend time with my husband and two little munchkins who love to play board games, bike, and swim. Apart from that, I love to paint on large canvases, and I love experimenting with different art forms and textures. I also love to hike, travel to a new place, and be one with nature.