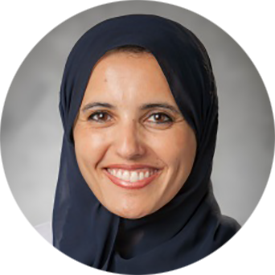 Mai ElMallah, MD, MS, associate professor of pediatrics in the Division of Pulmonary and Sleep Medicine, associate professor in neurobiology and cell biology and director of the Duke Cystic Fibrosis Center, was recently named chief of the Division of Pulmonary and Sleep Medicine in the Department of Pediatrics, effective August 1, 2021.
ElMallah is an NIH-funded clinician scientist whose research focuses on the control of breathing in Pompe disease and Duchenne muscular dystrophy. Using pre-clinical models, she examines the ability of AAV gene therapy to treat respiratory insufficiency in these neuromuscular disorders.
After completing a medical degree at Queens University Belfast in the United Kingdom, ElMallah completed residency training in pediatrics at Baylor College of Medicine. She then completed fellowship training in pediatric pulmonology at the University of Florida, College of Medicine.
"Dr. ElMallah's impressive strengths as a clinician, researcher, educator and mentor make her the ideal leader for our Division of Pulmonary and Sleep Medicine, and we are fortunate that she will be serving in this new role," said Ann M. Reed, MD, chair of the Department of Pediatrics and physician-in-chief of Duke Children's.