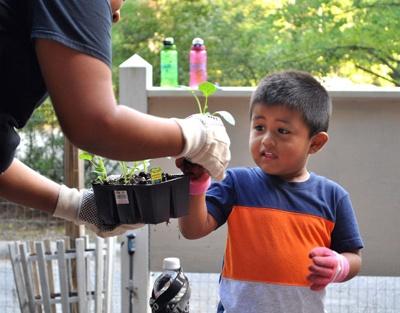 In the back of the parking lot at Durham's Edison Johnson Recreation Center, there are raised garden beds filled with beets, carrots and lettuce.
Over the summer, children planted the seeds that became these leafy vegetables. They carried out the digging, planting and watering as part of Bull City Fit, a community outreach program by the Duke Healthy Lifestyles Program and Durham Parks and Recreation. Bull City Fit helps children and their families overcome childhood obesity. The free, year-round wellness program is six days a week at the recreation center and provides low-income, high-risk children and their families with a place to play, exercise and learn healthy behaviors.
Children get to be themselves at Bull City Fit – They can participate in different activities in a relaxed atmosphere without fear of bullying, according to program staff members. At the start of the program in the late afternoon, children grab hula hoops, soccer balls and bowling pins and run around the brick courtyard, expelling energy as parents participate alongside them, sit and watch, or exercise indoors in the recreation center's gym.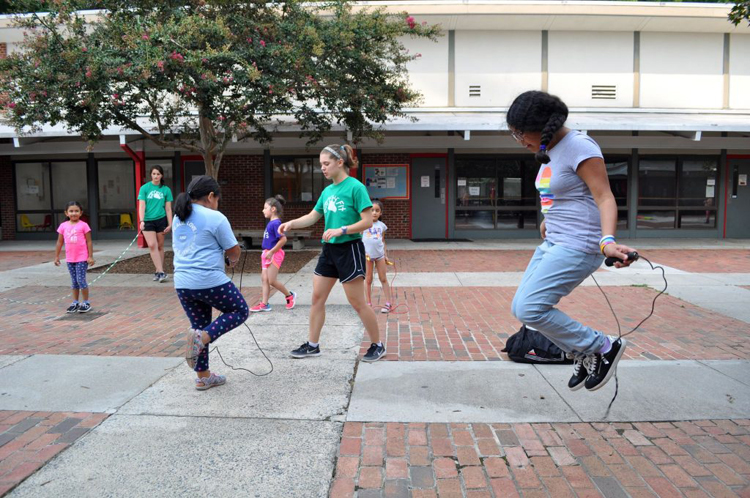 Bull City Fit, which serves about 50 Durham families every year, received a $4,000 Community Care Fund grant through Doing Good in the Neighborhood in 2016. The Community Care Fund is a competitive grant-making program for diverse Triangle nonprofits. The funding was used to help purchase fresh produce shares for families through Farmer Foodshare, which connects local farmers to people who need nutritious food. Funding was also used to hire an interpreter for cooking and nutrition demonstrations and purchase plants and supplies for the garden.
"Bull City Fit was created in response to patients telling Healthy Lifestyles providers that they didn't have safe places to play and be active," said Lauren Sibley, program coordinator for Bull City Fit. "Thanks to the Community Care Fund, we have been able to grow and strengthen our programming to reach more families in need in really meaningful ways."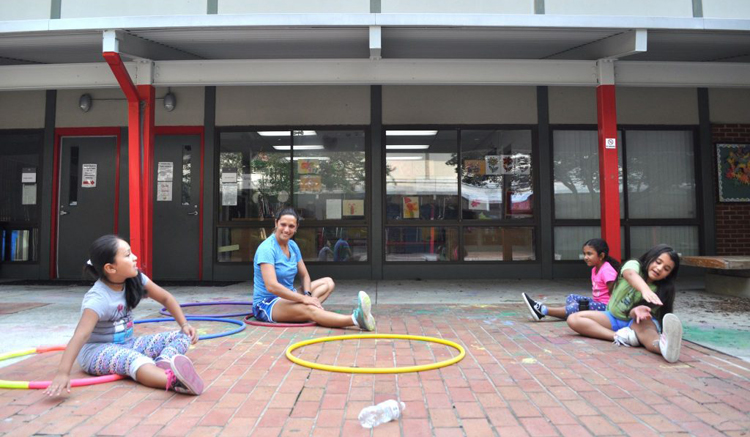 That afternoon, children got to choose between playing games and basketball in the gym or helping out in the garden. Shannon Teamer, a teen coordinator with Durham Parks and Recreation, stood at one of the raised garden beds and quizzed children on what plants need to survive – soil, sun and water. She also pointed out the difference between a hoe, mattock and trowel.
"We're going to have a whole bunch of beets and carrots, y'all, so you better come back with empty stomachs in about two months," Teamer said.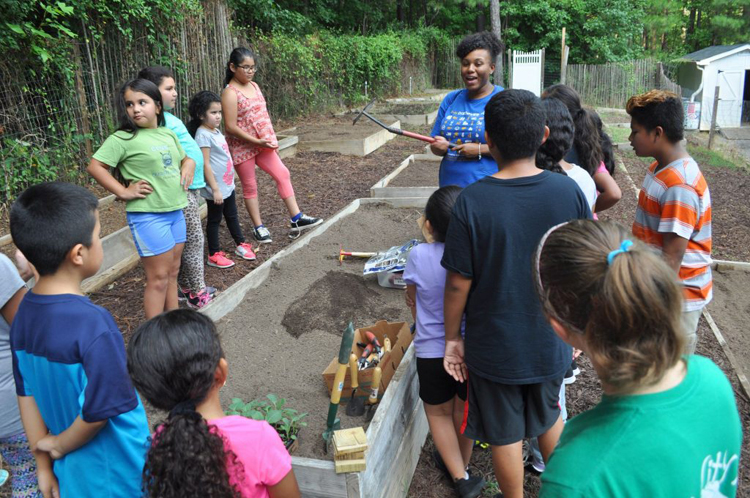 Seven-year-old Nataly Morales sprinkled seeds into the new trenches in the dirt. She is in second grade, and she said she wants to cook with the fresh vegetables that the garden produces. At home, she and her mom garden together.
When asked about her favorite part of Bull City Fit, Morales said, "Playing games. Having fun with my friends and meeting new people."
After planting seeds and watering them, all of the children participated in "veggie yoga" in the garden, where they pretended to be the shape of turnips and other vegetables, transforming from a curled-up ball to stretching their hands toward the clouds.
"I'm so proud of the work we do," Sibley said, who participated in veggie yoga alongside the children. "This is a program that a lot of people believe in."