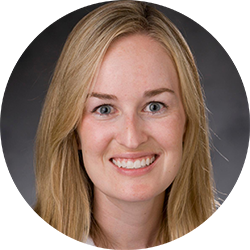 The Duke Pediatric Comprehensive Thyroid Clinic was established in 2018 to provide expert and compassionate care for pediatric patients with thyroid nodules, thyroid cancer, and/or an increased risk of thyroid cancer. The clinic, directed by pediatric endocrinologists Laura Page, MD, and Michael Freemark, MD, offers streamlined treatment from a specialized, multidisciplinary team that includes pediatric radiologists, thyroid surgeons, pathologists, pediatric oncologists, and nuclear medicine physicians. The clinic's leaders hope to advance the understanding and improve the treatment of pediatric thyroid cancer through groundbreaking research. 
To that end, Page has recently joined a collaborative effort of leading pediatric thyroid groups throughout the world. The collaboration is called the Child and Adolescent Thyroid Consortium (CATC). The consortium was created to improve outcomes for children and adolescents with thyroid disease by supporting research. "Thyroid cancer in children behaves differently than thyroid cancer in adult patients," says Page. "Collaboration of multiple institutions is critical to advancing the field of pediatric thyroid cancer."
Referrals to the Duke Pediatric Comprehensive Thyroid Clinic can be placed by calling 919.6848361.