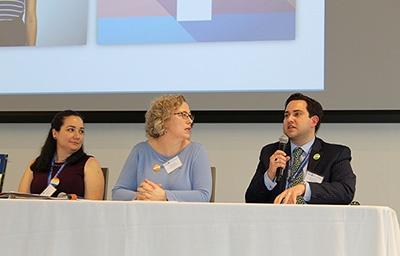 On Tuesday, February 11, an interdisciplinary group of Duke researchers and clinicians launched the Duke Sexual and Gender Minority Health Program at a day-long symposium on the Duke campus. The event featured keynote speakers from the National Institutes of Health (NIH) and panelists from Duke University, the University of North Carolina-Chapel Hill and the Durham community.
Keynote speakers included:
Chris Plowe, director of the Duke Global Health Institute
Judith Kelley, dean of the Sanford School of Public Policy
Karen Parker, director of the Sexual and Gender Minority Research Office at the NIH
Tamara Lewis Johnson, chief of the Women's Mental Health Research Program at the NIH
The vision for the Duke Sexual and Gender Minority Health Program (DSHP) is to transform research and healthcare for millions of sexual and gender minority individuals—that is, members of the LGBTQIA+ community—and to become the leader in research, patient care, education and policy for sexual and gender minority health in the southern U.S. and the Global South. The DSHP will draw on, and attract, talent from across the university to work with interdisciplinary teams to understand health needs and rethink health care for this vulnerable population.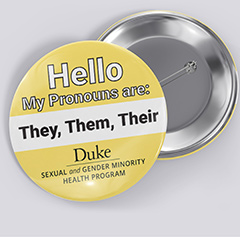 With its strong history of cross-campus collaboration, healthcare integration and innovation, Duke University is uniquely poised to successfully develop and implement this program. Duke is the only medical school in the southern states with a child and adolescent gender clinic, an adult gender clinic, a sexual and gender minorities primary care clinic, a top public policy school and global health institute.
Leading sexual and gender minority health scholars across Duke University include clinical researchers in the four largest departments in the School of Medicine—medicine, pediatrics, psychiatry and surgery—as well as dermatology, family medicine and community health, nursing, obstetrics and gynecology, occupational therapy, physical therapy, speech pathology and others. In addition, the university is home to excellent sexual and gender minority researchers in other academic departments and institutes and centers. Kathryn Whetten, director of the Center for Health Disparities and Inequalities Research, and Sara LeGrand, associate research professor in the Duke Global Health Institute, are leading the initiative.
While other leading universities provide transgender healthcare and conduct related research, Duke University will be the first to address sexual and gender minority health issues across multiple minority statuses.
"This is a very exciting moment to be at Duke and especially in the Department of Psychiatry," says Dane Whicker, a psychologist who works with LGBTQIA+ individuals and a member of the DSHP planning committee. "The launch of this program showcases the strong relationships our department has formed with other clinical departments, centers and institutes, as well as with our community partners. Dr. Rynn's support of this program brings the Department of Psychiatry ever closer to Dean Klotman's vision of 'One Duke.'" 
Panel in photo above from left: Dr. Tiffany Covas (Family Medicine and Community Health), Dr. Deanna Adkins (Pediatrics), Dr. Dane Whicker (Psychiatry)