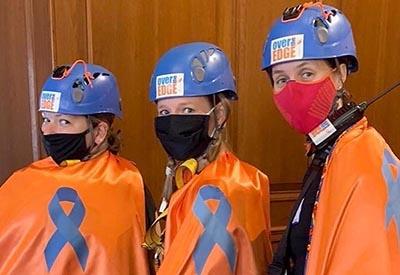 They say timing is everything and Lindsay Terrell, MD, knows that saying rings true. Terrell is the clinical director for the Duke Foster Care Clinic. She and her colleagues aim to connect with children who enter foster care within one week. They hope to match the child, the foster family and the biological family with resources as soon as possible to ensure long-term health.
She had just given Duke Health Chancellor A. Eugene Washington, MD, a tour of the clinic about a month before COVID-19 hit. He encouraged her to develop a proposal for a pilot program that would recruit a population health nurse and secure data support to grow the clinical foster care program. With an investment from the Duke Health Chancellor's Funds, Katherine (Kat) Ariano, MSN, RN, was hired to help serve the needs of foster children and their caregivers.
"I am grateful for Dr. Washington's interest in our clinic and these children who have a big need," said Terrell, who has been a foster parent herself since 2018. "As a society, we owe it to ourselves to look out for these children."
It is well known that children in foster care are a high-risk population and have elevated rates of exposures to adverse childhood events, physical health problems, undiagnosed or untreated health problems, developmental disability and mental health needs which can go on to impact adult health.
The Duke Foster Care Clinic has partnered with Durham and Orange Counties' Departments of Social Services (DSS) to evaluate the nearly 175 children who enter foster care each year. That number is expected to rise due to COVID's impact in the local community. All the Duke providers have completed a fellowship in child abuse and neglect. Using recommendations set forth by the American Association of Pediatrics (AAP), the Duke team:
Reviews the child's medical record and medical history
Provides an Initial Medical Evaluation examining the child's physical and mental health within one week of entering DSS custody
Places needed referrals for specialty care, including mental health
Places referrals for community resources, including parenting resources or other resources for the foster family and biological family
Provides support for the foster and biological families
Provides a Comprehensive Medical Evaluation within one month of entering DSS custody
Communicates with that child's community and medical team to inform them of the child's needs and medical plan
Ariano, who has a background in nursing informatics, tracks each child's progress to ensure their health needs continue to be met. While the clinic sees children for two to three visits, Ariano serves as the bridge for these children across the health system. Since the AAP's guidelines are based on expert opinion and not research findings, Terrell and Ariano hope their data can lead to research that will influence national recommendations and policies.
"I see my job as an opportunity to impact this and future generations," said Ariano. "In our clinic we look at a child and their care system in its entirety. We attempt to traverse all gaps, connect all possible resources and get these children and their support systems the care and assistance they need. Then it is our hope these children go on to live healthy lives and to have functional and fulfilling interpersonal relationships. At the very least, I want to get everyone in the mindset that there are people in the world that want to help."
Team members interested in supporting the Duke Foster Care Clinic can do so by clicking here or contacting Kristen Ward of Duke Children's Development at kristen.ward@duke.edu.​