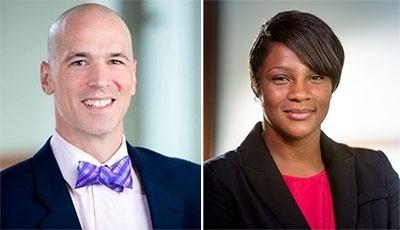 A multi-disciplinary scientific advisory board will provide rapid readouts of data on epidemiology, infection transmission rates, and other research. The pilot project, which is funded by the NIH, creates a model with potential to expand to additional school districts across the nation.
The Chapel Hill-Carrboro City Schools (CHCCS) Board of Education announced Thursday evening at its meeting a new partnership with the Duke University School of Medicine that will enable informed decision-making and implementation of district procedures in response to COVID-19.
Duke experts across multiple disciplines—such as epidemiology, pediatrics, general medicine, data science, and mental health—will form a COVID Scientific Advisory Board that will meet weekly to analyze the most recent local, state, and national trends surrounding the virus and its transmission. Insights from the scientific advisory board will shape creation and implementation of procedures at the school district level on a wide range of topics, from face mask requirements to mode of instruction. The advisory board's launch in CHCCS is a pilot project funded by the National Institutes of Health (NIH), and the team, which is also initiating discussions with Durham Public Schools and Orange County Schools, expects that the model will be expandable to school districts across the nation.
The board is led by two pediatricians from the Duke Department of Pediatrics and the Duke Clinical Research Institute (DCRI), which is part of the Duke University School of Medicine: Danny Benjamin, MD, PhD, a distinguished professor in epidemiology therapeutics, and Kanecia Zimmerman, MD, an associate professor in critical care. The board also includes experts from the School of Medicine's Department of Pediatrics and Department of Population Health Sciences.
The DCRI issued the following statement: "With almost 2,000 new scientific articles on COVID-19 published each week, it's critical to have the latest information to make these important decisions that affect the health of children and their families. We look forward to the opportunity to partner with our local policymakers to have a real impact at the local level and hopefully reduce incidence of community spread."
As the CHCCS Board of Education receives new information and adapts procedures accordingly, board members will also be able to seek the professional opinion of the scientific advisory board on new plans.
The CHCCS Board of Education issued the following statement: "Guidance on school re-opening from the state level gave the district flexibility to take the path that is best for our students and their families. We want to be sure that all of our decisions are measured carefully, and this partnership ensures that each step forward will be supported by the most recent science."