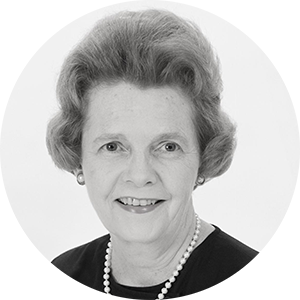 Rebecca Hatcher Buckley, MD, James Buren Sidbury Distinguished Professor of Pediatrics in the School of Medicine in the Division of Allergy and Immunology, recently announced her retirement following 64 years of service at Duke University.
Dr. Buckley graduated with an AB degree from Duke University in 1954, an MD degree from the University of North Carolina School of Medicine in 1958 and received housestaff training in pediatrics at Duke. She was a fellow in allergy under Dr. Susan C. Dees and a fellow in immunology under Dr. Richard S. Metzgar, all at Duke. She then became a faculty member in the Department of Pediatrics, served as chief of the Division of Allergy and Immunology from 1974 to 2003 and has been the James Buren Sidbury Distinguished Professor of Pediatrics and Professor of Immunology at Duke since 1979.
Dr. Buckley's research interests have focused on the fundamental causes of genetically-determined immunodeficiency diseases. For the past 40 years, her research has focused on the syndrome of severe combined immunodeficiency (SCID) and the long-term clinical and immunologic outcomes of nonablative T cell-depleted haploidentical parental bone marrow transplants. This treatment can be provided to all SCID infants, regardless of whether or not they have a matched sibling donor. For the past three decades, she has advocated for newborn screening for SCID, and the Secretary of the U.S. Department of Health & Human Services (HHS) officially recommended that this be implemented in May of 2010. Subsequently, the North Carolina legislature and Governor approved this proposal in 2015, and it was finally implemented in 2017.
The extraordinary 64-year career of Dr. Rebecca Buckley comprises numerous transformative achievements. A consummate physician-scientist, her pioneering work at Duke in pediatric immunodeficiencies is legendary, extending from laboratory research to pivotal clinic trials in transplantation for children with SCID to facilitating the implementation of newborn screening for SCID nationwide. As a highly respected immunologist, she also graciously contributed her expertise to lead professional organizations and committees and proffered her wisdom as a cherished mentor to the generations of medical students, house staff, and pediatric research fellows who now are in leadership positions themselves. Dr. Buckley is truly an icon to me and many others, and I offer my profound appreciation and hearty congratulations to her on her exemplary career.

--Anthony Fauci, MD, Director, National Institute of Allergy and Infectious Diseases
Dr. Buckley is the author or co-author of 378 scientific publications. She trained more than 80 post-doctoral fellows during her 29 year tenure as chief of the Division of Allergy and Immunology at Duke. She has been a member of over 30 national committees and councils and was president of the American Academy of Allergy, Asthma and Immunology (AAAAI) from 1979-80. She is an elected member of the Society for Pediatric Research, the American Pediatric Society (Council, 1991-2001; President, 1999-2000), American Association for the Advancement of Science, Fellow (2000); Chairman, Section on Medical Sciences (2001-2003); American Association of Immunologists (Chairman, Clinical Immunology Committee 1984-87), and American Academy of Pediatrics (Section on Allergy & Immunology; Executive Committee 1981-84). She served two terms as a director of the American Board of Allergy and Immunology and has also served on a number of editorial boards, including the Journal of Immunology, the Journal of Allergy and Clinical Immunology and the Journal of Clinical Immunology, where she was associate editor. In addition, she chaired the NIH Immunological Sciences Study Section and was a member of NIAID's Board of Scientific Counselors.
---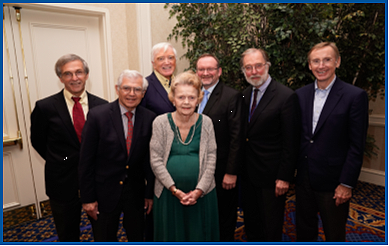 Seven past AAAAI Presidents attended the 2019 Susan Dees Symposium. From left to right: Hugh A. Sampson, MD, FAAAAI, Allen P. Kaplan, MD, FAAAAI, Dennis K. Ledford, MD, FAAAAI, Rebecca H. Buckley MD, FAAAAI, David B. Peden, MD, MS, FAAAAI, William W. Busse, MD, FAAAAI, and A. Wesley Burks, MD, FAAAAI. 
---
Dr. Buckley has received numerous awards and honors for her contributions to medicine from organizations such as the National Institutes of Health, the Immune Deficiency Foundation, the American Society for Microbiology, and the American Academy of Allergy, Asthma and Immunology, where she was named an Honorary Fellow in 1999. Notably, she is a member of Alpha Omega Alpha. In additon, she was:
Elected to the Institute of Medicine of the National Academy of Sciences (October 2003)
Appointed by the U.S. Secretary of HHS to a four-year term as a member of the HRSA Advisory Committee on Heritable Disorders of Newborns and Children (September 30, 2007)
Inducted into the National Academy of Sciences (April 29, 2012)
Recipient of the Thomas A. Waldmann Award from the Foundation for Primary Immunodeficiency Diseases (October 13, 2013)
Recipient of the March of Dimes Colonel Harlan Sanders Lifetime Achievement Award in Genetics from the American College of Medical Genetics (March 26, 2014)
Elected a member of the Association of American Physicians (April 26, 2014) 
Recipient of the John Howland Award from the American Pediatric Society (May 4, 2014)
Received an Honorary Degree of Doctor of Science from the University of North Carolina (May 12, 2019)
Selected as the 2019 Distinguished Fellow of the American Association of Immunologists (May 9-13, 2019)
Dr. Buckley served as chairperson of the Medical Advisory Committee of the Immune Deficiency Foundation from 2003 until 2022. She remains actively involved in clinical and scientific research, and teaching.
Dr Buckley's transition to emeritus professor was acknowledged by colleagues throughout the United States. Some of their comments follow:
The first word is decorated. Alongside Sam Katz, Becky is undeniably the most decorated member of the Department of Pediatrics at Duke in the history of the department. She has received over 60 honors over the course of her career, most notably including election to the Institute of Medicine and election to the National Academy of Sciences. In Becky's case the word "decorated" has an additional connotation and refers to the fact that she always wears a string of beautiful pearls. These pearls have become her trademark and symbolize her grace, her elegance, and her air of royalty.

--Joseph St Geme III, MD, Chair of Pediatrics at Children's Hospital of Philadelphia and former Chair of Pediatrics at Duke
Your pioneering work in pediatric immunodeficiencies paved the way to revolutionizing the treatment for so many children. And from you, countless generations of doctors and scientists have learned the meaning of determination, compassion, and a love of Duke basketball! I am grateful for everything you taught me, both in allergy and immunology, as well as in leadership and service.

--Wesley Burks, MD, Dean and CEO, UNC School of Medicine and UNC Health
Dr. Buckley has deeply inspired and influenced generations of both her trainees and her colleagues by the example of her extraordinary scholarship, innovation in clinical care, leadership, dedication to her patients, support of patient and professional organizations and generous collaborations with her colleagues. She has been and remains a guiding light to the primary immune deficiency community of physicians, scientists and patients.

--Harry L. Malech, MD, Chief, Genetic Immunotherapy Section, National Institute of Allergy and Infectious Diseases, NIH
There is nothing like seeing a Becky Buckley patient. Extraordinary, comprehensive and actually reasoned notes with thoughtful differentials and plans that took the patient and the science into account at the same time. Becky embodies the physician scientist we should be striving to be: a deeply caring and thoughtful doctor who at the same time blazed bright scientific and therapeutic paths through a dark wood. She developed and incarnated clinical immunology with discoveries and descriptions that remain beacons for all of us. She may have worked at Duke but she is the Queen.

--Steven Holland, MD, Director, Division of Intramural Research, National Institute of Allergy and Infectious Diseases
I would like to offer my best wishes to Becky as she moves to her well-deserved Emeritus position. She has been a force to great science and medicine for decades, and we will miss her calm judgment and keen insights. I was greatly honored to give the "Rebecca Buckley Lecture" at Duke a few years ago and have warm memories of that delightful day!

--Michael Leonardo, MD, NIH Distinguished Investigator, National Institute of Allergy and Infectious Diseases
Dr. Buckley is one of the most outstanding physician scientists today, a giant in the field of primary immunodeficiency disorders. Her keen observations have led to understanding of the causes and features of multiple rare immune disorders and to bone marrow transplantation for SCID that has saved the lives of many children, often very ill with severe infections. She combines outstanding clinical acumen with dedication to patients. As a master teacher, she has shared her approaches and insights with generations of trainees, multiplying her legacy of excellence.

--Jennifer Puck, MD, PI, Primary Immune Deficiency Treatment Consortium, PIDTC, UCSF Department of Pediatrics
Hi Becky, You are one of my cherished colleagues. Thank you for your friendship and all of our collaborations. Congratulations on your retirement, a wonderful career. I have a suggestion for you, write your memories. You have made and seen amazing developments, traveled over the world, met may amazing people, have been honored worldwide. As Benjamin Franklin said, 'relive your life by writing about it', a gift family, friends and other MD's. That's what I have been up to and it brings back long lost memories. I have endorsed page 1 of mine and am about 4/5th completed. I have kept a diary for many years.

--E. Richard Stiehm, MD, Distinguished Research Professor of Pediatrics, Emeritus, David Geffen School of Medicine at UCLA
---
Related content
Introductory address for the 2014 John Howland award recipient, Rebecca H. Buckley
Nature Publishing Group | Volume 76 | Number 5 | November 2014