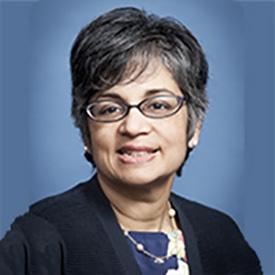 Sharon M. Castellino, MD, MSc, is a professor in the Department of Pediatrics at Emory School of Medicine and director of the Leukemia and Lymphoma Program at the Aflac Cancer & Blood Disorders Center of Children's Healthcare of Atlanta. Castellino earned her MD from Duke University School of Medicine and completed both her residency in pediatrics and fellowship in pediatric hematology/oncology at Duke. In this Alumni Spotlight interview, Castellino talks to us about how she initially became interested in the field of hematology/oncology, the lessons she learned from her mentors and colleagues at Duke, and her research interests in the areas of Hodgkin lymphoma and cancer survivorship.
What are your current responsibilities as the Director of the Leukemia and Lymphoma Program at the Aflac Cancer & Blood Disorders Center of Children's Healthcare of Atlanta? What does your average work day look like?
I serve as both the clinical director of operations and the program leader. The former involves overseeing and harmonizing the quality of care of our patients across 2 campuses. We have 12 attending and 6 advanced practice providers across the campuses where we see 150-170 new patients with leukemia and lymphoma annually. On a program level, I have set up the infrastructure for a clinical and translational program with the founding of a database and a biorepository. We have additional program faculty in the basic sciences and as part of our precision medicine and high risk leukemia faculty. The most rewarding part of my role has been the opportunity to recruit and to mentor talented students, fellows and junior faculty.
My daily work spans from seeing my own patients to administrative meetings to continuing my own grant and manuscript writing.
How and when did you first get interested in hematology-oncology? What about the field interests you the most?
My first rotation at Duke medical school was on the pediatric service with Dr. John Falletta as the attending. One of my first patients was a young girl with glioblastoma multiforme. This led me to Dr. Henry Friedman's lab studying mechanisms to overcome drug resistance in xenografts. There I had the luck of meeting and being mentored by Nobel laureate Dr. Gertrude Elion, who Henry had formed a mentoring relationship with; she then graciously co-mentored his students in their third year lab experience. I learned a lot from them about how to analyze a research problem and how to learn from and turn around hypotheses that seemed to fail initially.
The bed to bench side experiences in pediatric hematology and oncology in the 90s were happening at a steep part of the trajectory, and that was exciting.
What do you find most rewarding about working in pediatric hematology-oncology? What's the most difficult part of your work?
Mentoring young faculty and seeing their analytic thinking and writing skills grow is very rewarding. Of course, the joy and resilience of the patients themselves is a daily reminder of what a privilege it is to do this work.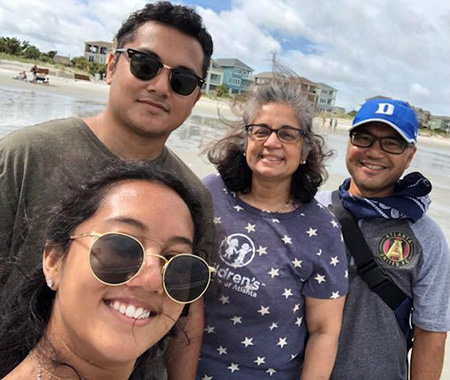 Can you please tell us about your research interests in the areas of Hodgkin lymphoma and cancer survivorship?
While my work as a Duke med student and then as a fellow in Dr. Joanne Kurtzberg's and Dr. Clay Smith's labs was basic, my post-fellowship path required a change to clinical research.
While at a St. Jude affiliate clinic in Johnson City, TN, I started working with Dr. Melissa Hudson in Memphis. The field of survivorship following cancer was just becoming it's own discipline, and studying Hodgkin lymphoma was natural as that group had early success in 5 year disease-free survival (compared to many other cancers). Dr. Hudson gave me several formative opportunities that led me to retool my career by getting a master's in Health Outcomes.
Studying Hodgkin lymphoma has brought my interest in understanding outcomes full circle to designing new trials, with the goal of reducing late effects and minimizing disparities in survivors.
You completed your medical degree, residency and fellowship at Duke. How did your experience as a student and trainee prepare you for your current work?
Duke was always tough in terms of the bar set and the rigor expected. It turns out that I thrived in that setting. A lot was expected, but concurrently, there was a culture of the residents and fellows taking pride in preparing you for rounds and for faculty taking the time at any hour to prepare you.
After I left Duke, I realized that not everyone is trained to present a patient fluidly without looking at notes, and to thereafter rattle off a differential diagnosis. There is a lot of value in learning to do that early on, beyond the face value of flawless oration.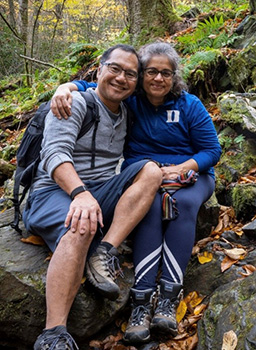 What's one memory from your time as a trainee at Duke that stands out the most?
Well, there are 3. The first was when I had my first meeting with Dr. Elion. It was pretty anxiety-provoking to prepare to show and discuss my data of what seemed to be failed experiments with the recently minted Nobel laureate.
My second was surgery lab--I remember Dr. David Sabiston saying that a great surgeon was only as good as the second surgeon assisting at the table.
The third was watching Dr. Brenda Armstrong draw the anatomical heart and great vessels with red and blue chalk concurrently on the board--there was no powerpoint.
What's the biggest change you've seen in the field of hematology-oncology since you completed your fellowship training? What changes do you see coming over the next decade?
The explosion of new molecular diagnostics and therapeutics in combination with immunotherapy and a recognition of the tumor micro environment is staggering. But in pediatrics, it's a greater challenge in some ways because we had a success rate of 80- 85% disease-free survival with conventional chemotherapy and radiation. So the question now is, how to apply novel agents which, while targeted, still have bystander effects. Cancer has now become a chronic disease for many--that is a change from when I began medical school.
What passions or hobbies do you have outside of work?
In any free time…I read--mostly fiction by female authors. I have started drawing again and am working with pastels. It's a new world since the kids left home, returned during the pandemic and left again.