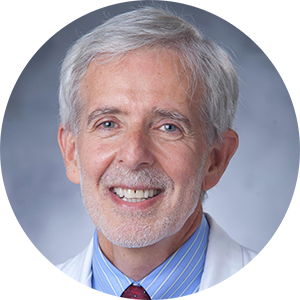 Michael Freemark, MD'76 is an internationally known pediatric endocrinologist who has made seminal discoveries in fields including obesity and childhood malnutrition, pediatric diabetes, intermediary metabolism, and the control of fetal growth. His basic science work has focused on the regulation of metabolism during pregnancy and its effects on fetal development. In clinical research, he has played a leading role in the field of pediatric nutrition. He and his colleagues were the first to demonstrate the benefits of pharmacotherapy in children with pre-type 2 diabetes, and the first to use insulin pumps in infants and toddlers with type 1 diabetes. Freemark has explored the control of appetite, weight gain, and insulin sensitivity in children with non-syndromic obesity and Prader Willi syndrome. He co-authored the Endocrine Society's guidelines for evaluation and management of obese adolescents and children, and he has published a comprehensive textbook on pediatric obesity.
In landmark studies of Ugandan children, Freemark and his colleagues were the first to use metabolic profiling to analyze the hormonal and metabolic pathogenesis of severe acute malnutrition. In these studies he identified novel biomarkers that predict mortality in malnourished children. Assays for these biomarkers are the focus of grants from the Duke Global Health Institute, the European Commission, and the Humanitarian Innovation Fund (Save the Children), and involve collaboration with the transnational aid agency Action Contre La Faim (Action Against Hunger).
For 29 years, Freemark has served as chief of the Division of Pediatric Endocrinology and Diabetes at Duke. He has trained numerous medical students, pediatric residents, endocrine fellows, and junior faculty members. His former trainees have made major contributions in their fields. In recognition of his educational efforts, he received Duke's Golden Apple Award and the Faculty Mentor and Michael M. Frank Research Awards from Duke's Department of Pediatrics. As a clinician, he has been recognized by US News/Castle Connolly's America's Top Doctors and Best Doctors in America for 19 years running, since the inception of the programs. Notably, he was a 2019 recipient of Duke Medical Alumni Association's Distinguished Faculty Award. These awards are designed to honor alumni and friends whose distinguished careers and unselfish contributions to society have added luster and prestige to the University and the School of Medicine.
Education
M.D., Duke University, 1976
B.A., Brandeis University, 1972
Residency
Pediatrics, Duke University Medical Center, 1976-1979
Fellowship
Molecular Endocrinology, Necker Hospital for Sick Children (France) 1993, 2006
Molecular Endocrinology Lineberger Cancer Center, University of North Carolina, 1990
Pediatric Endocrinology, Duke University Medical Center, 1980-1984
Board Certification
American Board of Pediatrics, General Pediatrics
Current Title
Robert C. Atkins, MD, and Veronica Atkins Professor of Pediatrics, Duke University School of Medicine; chief, Division of Pediatric Endocrinology; affiliate, Duke Global Health Institute; member of Sarah W. Stedman Nutrition and Metabolism Center and the Duke Molecular Physiology Institute.