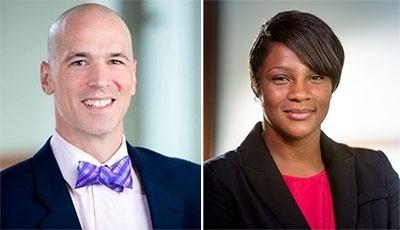 The DCRI-based ABC Science Collaborative is launching a new study as part of the Safe Return to School Diagnostic Testing Initiative, an extension of the Rapid Acceleration of Diagnostics-Underserved Populations (RADx-UP) program that is funded by the National Institutes of Health.
The NIH created RADx-UP in 2020 to expand access to and increase uptake of COVID-19 testing in vulnerable and underserved populations. The DCRI and its partners, the UNC Center for Health Equity Research and Community-Campus Partnerships for Health, serve as the coordinating and data collection center for RADx-UP.
The NIH is providing an additional $33 million over two years for RADx-UP studies to address how schools can safely return to in-person instruction during the COVID-19 pandemic. This new funding is supporting projects at 10 institutions across eight states, including a project of the ABC Science Collaborative called "SARS-CoV-2 Screening and Diagnostic Testing for Return to K-12 Schools."
The study will be led by DCRI faculty member and ABC Science Collaborative co-chair Kanecia Zimmerman, MD, MPH. Zimmerman, along with ABC Science Collaborative co-chair Danny Benjamin, MD, PhD, MPH, and the rest of the study team will focus on surveillance testing at Durham charter schools, each week randomly selecting and testing for COVID-19 from 10 to 20 percent of students and all staff who have consented to testing. The study will also include exposure testing within Iredell-Statesville schools in Iredell County, North Carolina to test close contacts after an identified COVID-19 case within a school.
The study includes both surveillance and exposure testing to reduce COVID-19 transmission and interviews with families to increase trust within communities.
The study team aims to determine whether both types of testing decrease disease transmission within schools, as well as whether exposure testing helps to shorten the quarantine period for close contacts.
"The work and research of the ABC Science Collaborative has already helped our partners in school districts across North Carolina and other states learn how COVID-19 mitigation efforts support safe in-person instruction," said Zimmerman. "We are excited to be a part of the RADx-UP initiative that seeks to make sure testing and other tools benefit the children of underserved communities."
An important goal of the ABC study is to increase trust within communities, particularly within Black and Latino families. DCRI's Amy Corneli, PhD, MPH, will lead a social science component of the study to better understand families' concerns and barriers regarding returning to school. Findings will be used by Black and Latino families and communities to identify locally-driven strategies to address concerns as part of the study's community engagement activities.
"Many children have inequitable access to reliable virtual learning, and it is important they are able to participate safely in person while also maintaining the health and safety of the school and general communities," Eliseo J. Pérez-Stable, MD, director of NIH's National Institute on Minority Health and Health Disparities and co-chair of the RADx-UP program said in an NIH announcement about the new initiative.
Zimmerman has been tapped by the NIH to facilitate close coordination of the RADx-UP Return to School awardees.

The ABC Science Collaborative is a program that pairs scientists and physicians with school and community leaders to help understand the most current and relevant information about COVID-19. The program helps school leaders make informed decisions about returning to school using data from their own communities. The ultimate goal of the program is to keep teachers, children, and their local communities healthy and safe.
This article originally appeared on DCRI News.
---
Related content
NIH-funded COVID-19 testing initiative aims to safely return children to in-person school.
National Institutes of Health [04.15.2021]